Today I have listened to some fantastic women.
I mean seriously awe inspiring.
I went to the Women of the World conference at the Southbank with my sis.
There was something so positive and calming about being at a nearly all female event.
And there were loads of women.
Swarms of us.
And the person I was most excited about seeing was Vivienne Westwood.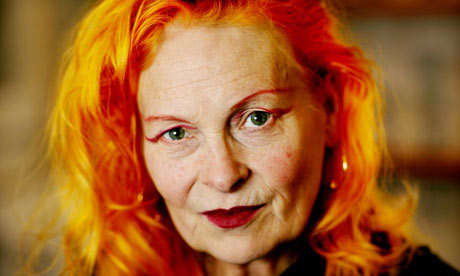 In another life, I only wear Westwood.
I'm super successful, with long mermaid-length hair, fantastic with money and live in a house with an open fire, where I cook from scratch and grow everything, whilst juggling a job of huge national/ international importance.
As it stands, I have one Westwood necklace of the globe, bought from eBay with questionable authenticity.
But I digress.
Hearing someone speak with absolute conviction can take your breath away.
Vivienne Westwood is one of those women.
She fights like a warrior for human rights and climate change.
She doesn't use fancy language, or dazzle you with facts.
Just raw passion.
There was a collective intake of breath
from a room full of hundreds of women, as she took to the stage all grace and elegance with her familiar Derbyshire accent.
But the thing that struck me more than anything was that she gave a shit about people.
Genuinely.
Vivienne Westwood is a woman who need never work another day in her life.
Who's name is synonymous with beauty and style the world over.
Yet here she is, in her 70's, fighting for what's right in the world with the same energy as I imagine she did when she opened her first shop on The Kings Road all those years ago.
When it came to the audience asking questions, the first women started, 'I know you from campaigning...' and I'm ashamed to say I inwardly groaned as I thought, here we go, a poor attempt at try and be bessie mates.
But VW, in a flash, responded, 'I recognise you, weren't you dressed as a mermaid last time I saw you?'
And the last question from the floor came from a child of about 6.
Who asked her, 'what can children do about climate change?'
To which she told her, 'same as grown ups. Children should never be patronised, you can fight the same as grown ups. Find the thing that's important to you and fight for it.'
I left the day with my head a buzz with ideas.
Ideas about the world I wanted Nancy to grow up in.
How I wanted her to see me.
How I wanted to view and be viewed by other women.
And how fucking brilliant woman are. Full stop.
I was so struck by the gravity of it all, I got on totally the wrong bus in the opposite direction, so the journey to Brighton took over two hours longer than expected.
And I completely missed Nancy's bedtime.
But I guess Rome wasn't built in a day.